RENOVATION
We will Honor the Past, and Invest in the Future, as we embark on an amazing journey together.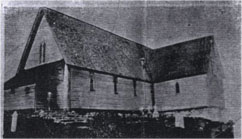 Our Church
This year we celebrate the 80th anniversary of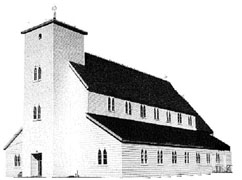 our church. We have so much to thank God for. With one of the largest Anglican Congregations in all of Newfoundland and Labrador we have become much more than just a solid Anglican community. We have the largest and one of the oldest CLB companies in Newfoundland. For years our church and parish hall have supported our community with wedding receptions, fall fairs, St George's Day Parades, Sunday night fellowship meetings and have been made available on an ongoing basis to ACW, Anglican Men's Fellowship, Girl Guides, ALANON, Canadian Blood Services, Eastern Health and in time of need, school classrooms. Choirs and church bands have given us the gift of music. Clergy and laypeople donate their time and energy to Vacation Bible Schools, Youth Groups, Bible Studies and courses, Sunday school, confirmation classes, visitation of the sick and shut-ins, meals on wheels, hospital visits. This is just a glimpse of the many, many activities and involvement of The All Saints Family.
Our past and current affiliations include the Orange Lodge and the Anglican Schools under the denominational system, including All Saints, St Alban's and St George's. If we look at the thousands of marriages, baptisms and funerals over the past 80 years, All Saints Parish has been such an important part of our personal community, and for many a solid rock in time of personal and family turmoil and trouble.

Our Pride
All Saints Church has weathered many storms, both outside and inside our building. Like most families, with God's help, we have to constantly face the stresses that threaten our family unit. With God's help, today we are coming through another test and we have come through with our heads held high.

This is a testimony to our rich past, the pride of our current congregation and the collective will to move forward.

The Opportunity
In the Anglican and All Saints spirit, we constantly have to "Fight the Good Fight" and today we have been given the opportunity to strengthen our church even more, ensuring that our children and their children will have the same solid rock to rely on in their future.

We are encouraging all parishioners in our congregation to support the restoration of our building. A family or extended family can purchase a window, or a section of roofing, or a "square" of siding.

What a legacy to leave our families and their families! You will have the pride of ownership that will strengthen our physical building, and help to bring us even closer together as co-owners and investors in God's plan.
We are constantly amazed how God is working in our church. Prior to making an official notification of this opportunity, we mentioned the idea to various parishioners "in passing", or for example, when they dropped by the office. The response has been incredible. To date, we have commitments to restore 7 windows (there are 52 windows in total), with donations in excess of $37,746.25 and permission to transfer $17,269.56 from the Future Fund New Church Building Fund.

Now you can be part of the building restoration plans. Just talk with any member of the renovations committee, clergy or parish office staff. You can make a one-time donation or a monthly commitment. There will be a permanent display showing the part of the church your family has donated.

History of All Saints Church - Part 1
For many years Foxtrap was included in the Mission of Topsail, and the Church of England congregations were served by visiting clergy from St. John's. As early as September 1832, Thomas Martin Wood was made a Deacon by Bishop Inglis, and before the year was out he was appointed to the Charge of St. John's Outports, which at that time included Topsail and the other settlements on the south side of Conception Bay and Petty Harbour.

The first resident clergyman in Foxtrap was a Missionary – Benjamin Fleet, who came to Newfoundland in 1824 with two other "agents" of Samuel Codner's Newfoundland School Society. After teaching in St. John's and several places in Trinity Bay, and acting as lay-reader and catechist, he was ordained Priest in 1842 by Bishop Spencer. After 4 years in the Burin Mission he moved to Foxtrap, where he died in 1876.
He was the first clergyman stationed on the Southern Shore of Conception Bay. Rev. Fleet and his people built a first small chapel which was later replaced with a more pretentious one. It was said that he ordered the men to sit on one side of the Nave, and the women on the other. He had no permanent dwelling, but "boarded around".
From 1876 to 1899 the Rev. Edward Colley was the Rector at Foxtrap. He was succeeded by the Rev. Henry Petley, who served the Mission until 1903.

Did you Know
When my great-great-grandfather passed away in 1895, there was no Anglican Cemetery in Upper Gullies. Cemetery #1 on Church Road was open and his casket was brought down in a dory to Foxtrap, and the mourners walked the beach to participate in the burial.
Cal Taylor

If you would like to contribute a personal interest story for inclusion in future articles concerning the history of All Saints Parish, please feel free to email me at cal.taylor@nf.sympatico.ca or drop off a written copy at the office.
(These articles are provided by the Communications Committee – Ralph Fagan, Jim Hart, and Cal Taylor.)

Please feel free to email us communications@allsaintsparish.ca
Newsletter April 21, 2011